Helping Women Locally and All Over the World

BPW Niagara Falls is now accepting membership  applications.
What are the benefits to being a member? Learn how YOU can make a difference!
Network with professional Women from diverse industries and backgrounds

Access our Mentorship program as a mentee or a mentor

Participate in the United Nations

Get involved in political resolutions

Have your voice heard at the Prime Minister's Office

Benefit from worldwide Friendships

Make a Difference every day!
From 1917, our club has been dedicated to helping women.
"The Niagara Falls Business & Professional Women's Club" was founded July 17, 1917.

The New Charter: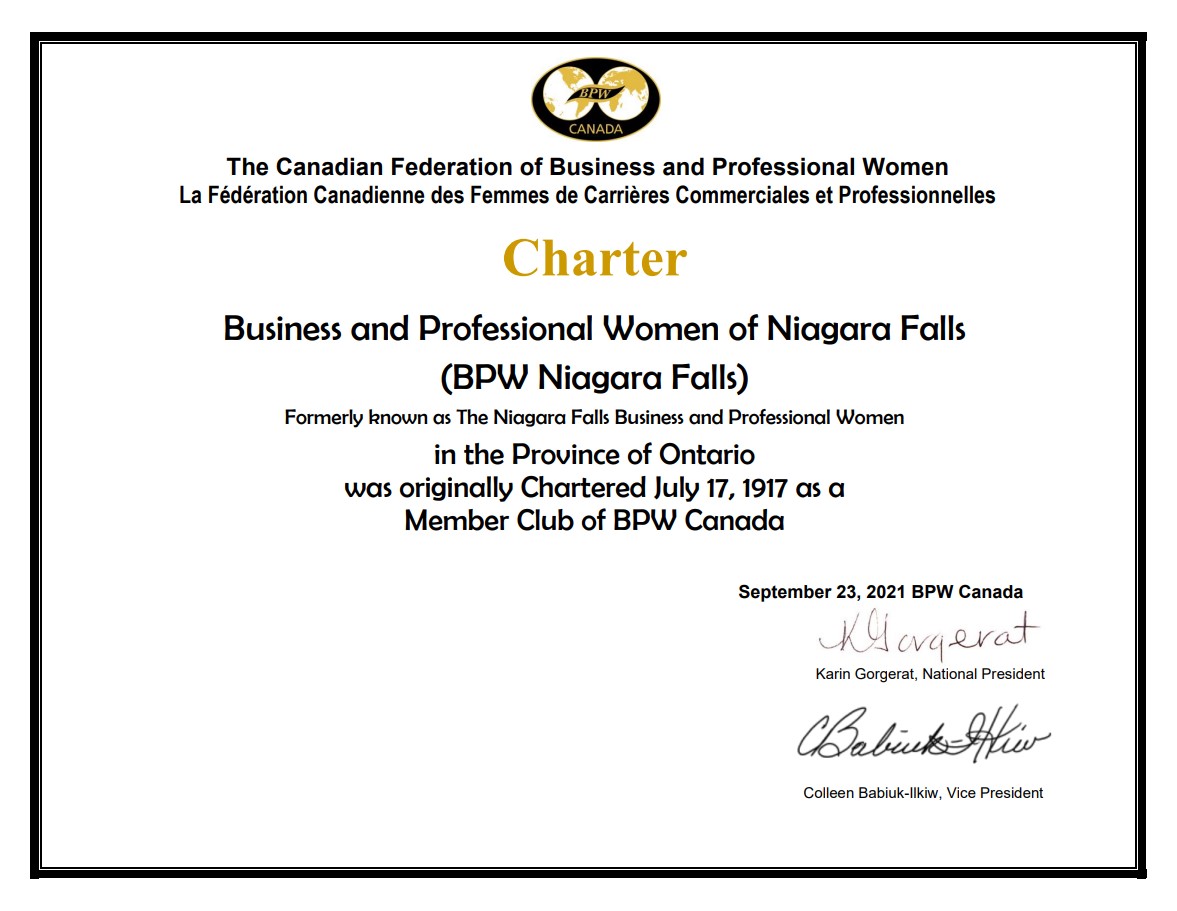 The previous Charter: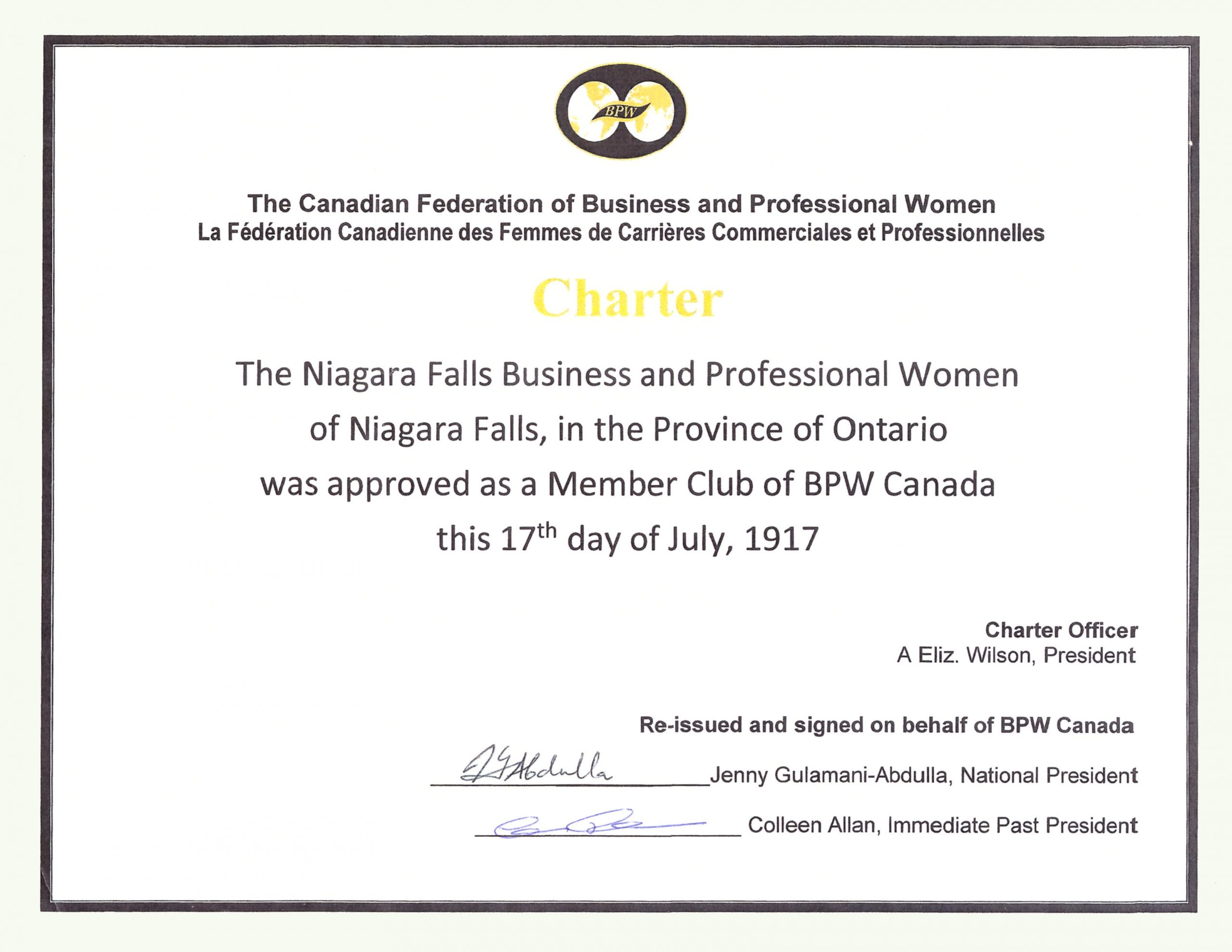 A group of business women gathered to form the Niagara Falls Council of Women  and met regularly at the local YWCA. The club is part of the National Foundation which covers all fifty states (the US Federation). The local organization was comprised of members from all categories of business & the professions, such as Accounting, Banking, Education, Civil Service, Law, Medicine, Industry, Real Estate, Insurance, News Media, Sales, Food Services, Office Management, Music, Nursing, Library Services, Arts and Self-Employed in numerous fields of business.
Each year, the club awards a scholarship to an eligible student who plans to further her education.
Young Business and Professional Women (Young BPW) is BPW's way of honouring successful young career women while introducing them to the ideals & standards of the National Foundation. The BPW members share ideas, experience & expertise through social interaction & planned programmes. The women personify a high level of achievement in their individual careers and dedication to community involvement.
BPW Niagara Falls club has received many awards for originating seminars on Career Counseling, Self-improvement, Education, High Achievement in Membership and Programmes.
The group is international in scope, having the largest number of members all over the world. The local group was originally included in District VIII, which covers Western New York with 22 clubs. The meetings are currently held monthly on the fourth Wednesday of the month with dinner at Mick and Angelo's  starting at 5:30 p.m. ET .… a helping hand is extended to all working women everywhere.  QUOTED FROM BPW NIAGARA FALLS CLUB ARCHIVES.
Why I Am a BPW Member:
BPW Niagara Falls meetings are always fun and informative. I learned so much from  the presentation on recognizing the differences between our gender's heart attacks and that of men, and what to do during the hands on practices, to the beat of the BEE GEEs "Staying Alive". — Niagara Falls member since 2015
BPW supports and assists women to be all they can be, improving women's lives worldwide. The friendships I have made over the years keep me in BPW. — Kingston member since 1983.
BPW has definitely helped me grow as a person and a business woman. I feel much more comfortable talking to groups and I have learned numerous business skills. My life is definitely richer in many ways. — Barrie member since 2004
I belong to several business networking groups, however I particularly enjoy BPW as the members are diverse, approachable and supportive with a common shared interest in women's issues. —
 London member since 2012.
BPW is a true sisterhood of women who are always there for one another. With each and every one their community involvement is exemplary as is their dedication to the plight of less fortunate women everywhere. — Brampton member since 2002.
.
Find a BPW Club near You: