Welcome to our BPW Niagara Falls Monthly Meetings!
Our May 24 meeting is FREE for everyone to attend. We will discuss BPW Canada Resolutions in preparation for the AGM held online in mid-August.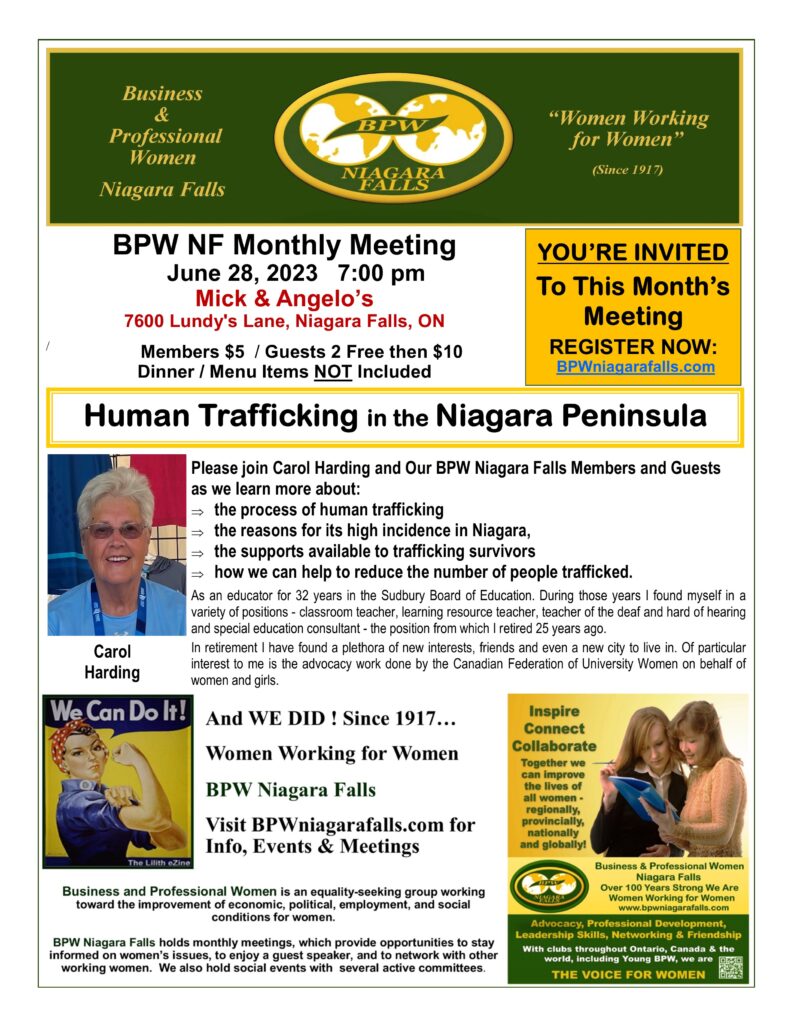 For information and to attend, please Contact us!
For regular monthly meetings, all BPW Members: $5 — Guests: 2 FREE monthly meetings, then $10 while on Zoom.

Our June 28 meeting will be held in person! Stay tuned for more information.
Join us on the 4th WEDNESDAY of each month. — Start time 7:00 p.m. Eastern Time on Zoom
Donations are gratefully accepted! Payments as e-Transfers can be sent to our email meetings.bpwniagarafalls@gmail.com
You are treated to a guest speaker. You will have networking opportunities, and you will meet amazing women like yourself, Women working for Women! What a fantastic deal!
Our future 'in person' location is Mick & Angelo's 7600 Lundy's Lane, Niagara Falls, ON — We are meeting there for our June 28 meeting! Join us at 5:30 p.m.
The Meeting Registration Fee is payable to meetings.bpwniagarafalls@gmail.com — Attendees pay for their meal separately to the restaurant.
Our Speakers: We can click on the name and title of the Presenter, download the PDF and share it widely on Social Media! Save the Date and Register Now
January 11, 2023 — Carolyn Savage "Focus on Sustainable Development Goals"
February 22, 2023  — Annual Candle Lighting Ceremony with Marlene McKinnon, BPW Ontario President
March 22, 2023 — Gloria Messenger  "The Less Yet Equally Important Info to Know When Losing a Loved One"
April 26, 2023 —  Resolutions & By-Laws for BPW Ontario Virtual AGM June 10, 2023
May 24, 2023 — Resolutions & By-Laws for BPW Canada, August 2023
June 28, 2023  — Carol Harding "Human Trafficking in the Niagara Peninsula"
July 19, 2023  — Summer Social Get-Together
August 18, 2023  — WHO needs an Excuse for Lunch? Join us at Betty's in Chippawa
September 27, 2023 —

WOMEN EDUCATING WOMEN—JOIN US TO LISTEN, LEARN AND BE POWERFUL!

October 25, 2023  — TBD
November 22, 2023  —TBD
December 20, 2023  — Holiday Social Get-Together
Past Speakers…. THANK YOU to ALL!