Welcome to our BPW Niagara Falls Monthly Meetings! Click here to Register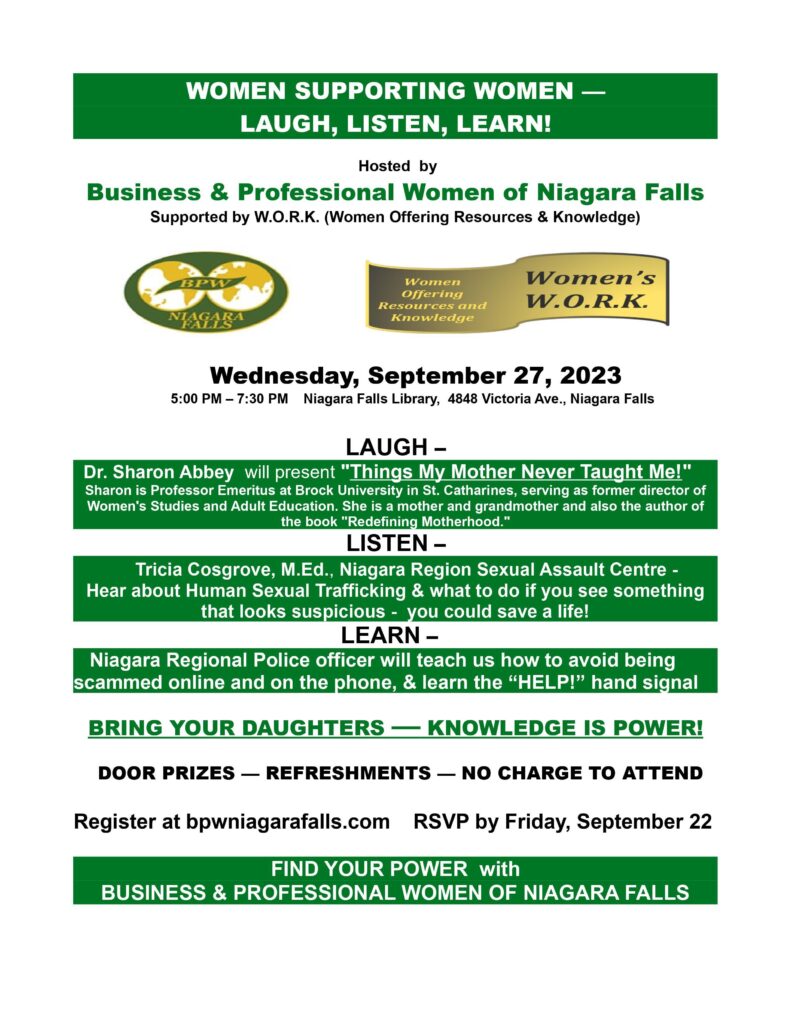 For information and to attend, please Contact us!
For regular monthly meetings, all BPW Members: $5
Guests: 2 FREE monthly meetings, then $10.
You are treated to a guest speaker. You will have networking opportunities, and you will meet amazing women like yourself, Women working for Women! What a fantastic deal!

Join us at 5:30 p.m. for our 'in person' monthly regular meeting in October:
Mick & Angelo's 7600 Lundy's Lane, Niagara Falls, ON
Attendees pay for their meal separately to the restaurant.
During the winter months, join us on Zoom — @ 7:00 p.m. Eastern Time
Donations are gratefully accepted! Payments as e-Transfers can be sent to our email meetings.bpwniagarafalls@gmail.com
Our Speakers: We can click on the name and title of the Presenter, download the flyer and share it widely on Social Media! Save the Date and Register Now
January 11, 2023 — Carolyn Savage "Focus on Sustainable Development Goals"
February 22, 2023  — Annual Candle Lighting Ceremony with Marlene McKinnon, BPW Ontario President
March 22, 2023 — Gloria Messenger  "The Less Yet Equally Important Info to Know When Losing a Loved One"
April 26, 2023 —  Resolutions & By-Laws for BPW Ontario Virtual AGM June 10, 2023
May 24, 2023 — Resolutions & By-Laws for BPW Canada, August 2023
June 28, 2023  — Carol Harding "Human Trafficking in the Niagara Peninsula"
July 19, 2023  — Summer Social Get-Together
August 18, 2023  — WHO needs an Excuse for Lunch? Join us at Betty's in Chippawa
September 27, 2023 —

WOMEN SUPPORTING WOMEN—JOIN US TO LAUGH, LISTEN & LEARN!

October 25, 2023  — Gilian Verworn  "Self-hypnosis for Productivity and Stress Management"
November 22, 2023  — Shahina Suleman  "Mentorship, The Gift That Keeps on Giving"
December 20, 2023  — Holiday Social Get-Together
Past Speakers…. THANK YOU to ALL!