Welcome to our BPW Niagara Falls Monthly Meeting!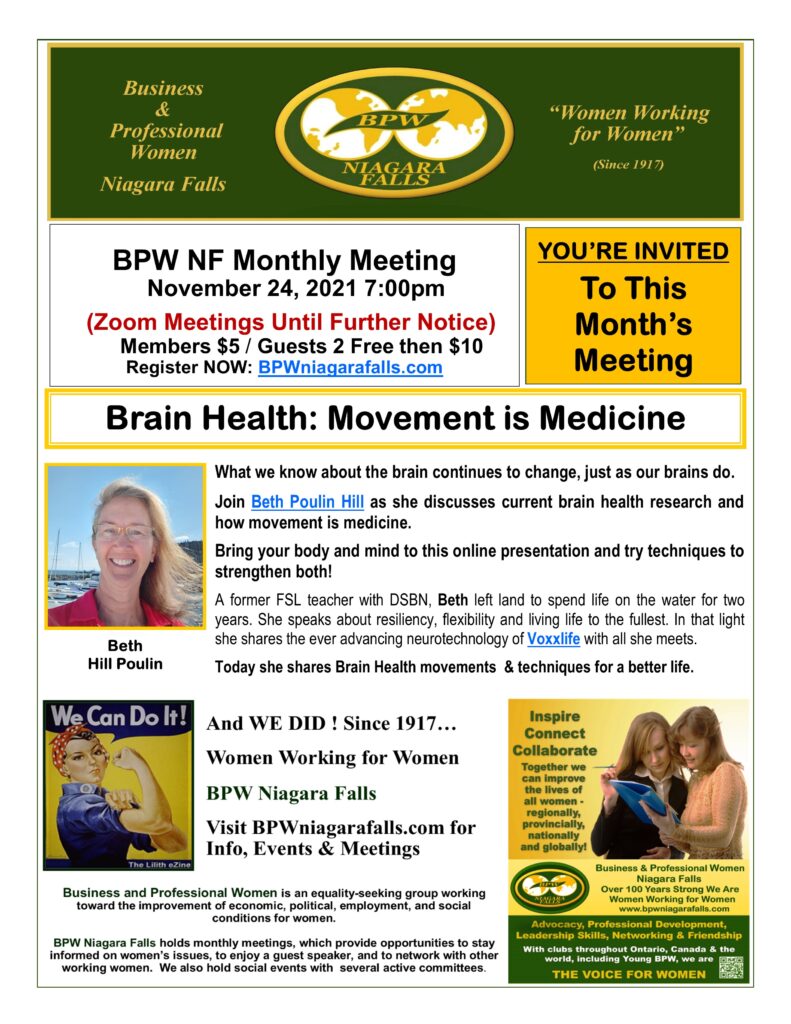 For information and to attend, please Contact us!
All BPW Members: $5 — Guests: 2 FREE meetings, then $10
Join us on the 4th WEDNESDAY of each month.
Start time 7:00 p.m. EST on Zoom
Donations are gratefully accepted and e-Transfers can be sent to our email bpwniagarafalls@gmail.com
You are treated to a guest speaker. You will have networking opportunities, and you will meet amazing women like yourself, Women working for Women! What a fantastic deal!
Our future 'in person' location will be Mick & Angelo's 7600 Lundy's Lane, Niagara Falls, ON

Dinner is not included in the Meeting Registration Fee payable to BPW Niagara Falls.
Our 2021 Speakers — Save the Date and

Register Now
January 27, 2021  Just in Case — Margaret High
February 24, 2021 Days for Girls Brock U — Brielle Kaminsky
Join us for our Annual Candle Lighting Ceremony!
March 24, 2021  Heart Niagara — Karen Stearne
April 21, 2021  A Better Way to Govern — Linda Babb
May 26, 2021 Resolutions & By-Laws for Conference and Convention
June 23, 2021 Joan Grobb Augustino — The 5 Secrets to Success at Work and in Life
July 21, 2021  Members Only — Summer Get Together
August, 2021  No Meeting — Pause & Reflect
September 22, 2021 Debi Katsmar — Marketing Basics
October 27, 2021  Oraine DeRosa — Let's Talk About Money, Ladies!
November 24, 2021  Beth Poulin — Brain Health: Movement is Medicine
December 22, 2021  Members only — Holiday Get Together
PAST Speakers…. THANK YOU to ALL!