Welcome to our BPW Niagara Falls Monthly Meetings!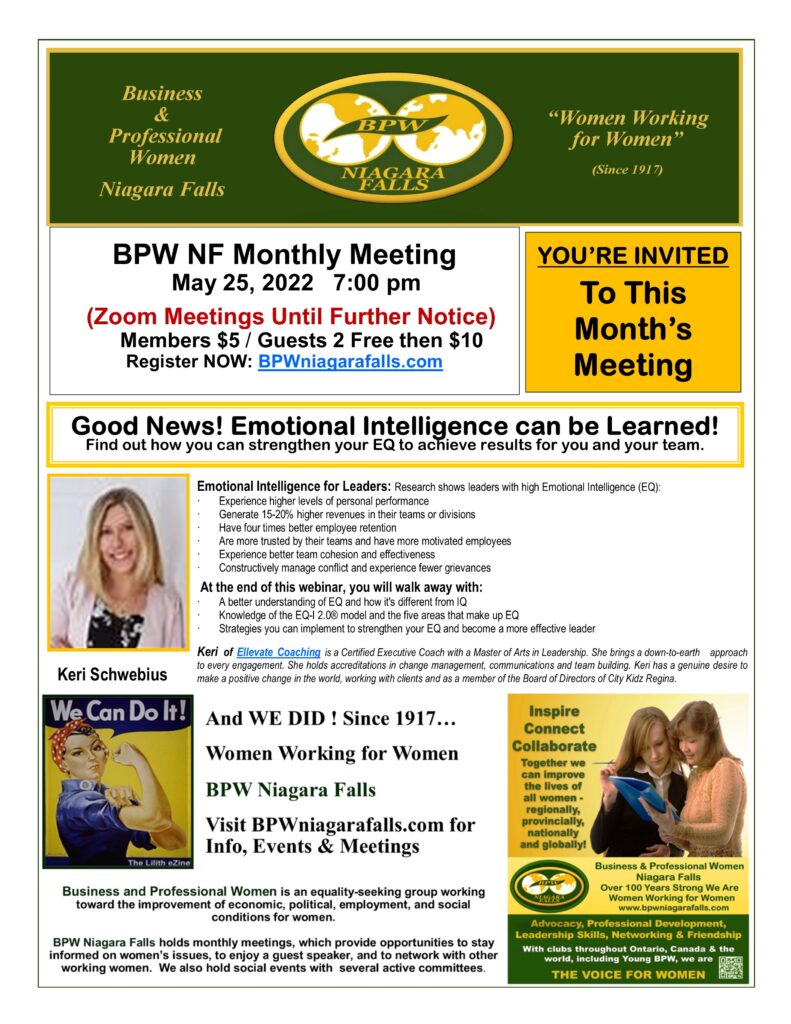 For information and to attend, please Contact us!
All BPW Members: $5 — Guests: 2 FREE monthly meetings, then $10 while on Zoom
Join us on the 4th WEDNESDAY of each month.
Start time 7:00 p.m. Eastern Time on Zoom
Donations are gratefully accepted and e-Transfers can be sent to our email meetings.bpwniagarafalls@gmail.com
You are treated to a guest speaker. You will have networking opportunities, and you will meet amazing women like yourself, Women working for Women! What a fantastic deal!
Our future 'in person' location will be Mick & Angelo's 7600 Lundy's Lane, Niagara Falls, ON

Dinner is not included in the Meeting Registration Fee payable to BPW Niagara Falls.
Our 2022 Speakers: We can click on the name and title of the Presenter, download the PDF and share it widely on Social Media! Save the Date and Register Now
January 26, 2022 — Charmaine Grace "What is Your Next Step?"
February 23, 2021 — Join us for our Annual Candle Lighting Ceremony with Dawne Williams
March 23, 2022 — Nance MacLeod "Resilience during global change"
April 27, 2022 —  Resolutions & By-Laws for Conference and Convention
May 25, 2022 — Keri Schwebius "Emotional Intelligence can be Learned!"
June 23, 2022  — Ginette Hunter "Feng Shui In The Summertime"
July 27, 2022  — Summer Get Together
August, 2022  — No Meeting — Pause & Reflect
September 28, 2022 — Maria Rekrut "Lessons Learned in 40 Years of Business"
October 26, 2022  — Charlene Doak-Gebauer "Are You Aware? – Internet Child Exploitation"
November 23, 2022  — Louise Neil "Discovering Your Superpower"
December 21, 2022  — Holiday Get Together
January 11, 2023 — Carolyn Savage "Focus on Sustainable Development Goals"
February 23, 2021  — Join us for our Annual Candle Lighting Ceremony
Past Speakers…. THANK YOU to ALL!